TikTok is not just a teenager thing anymore; it possesses many potentials for brand development. Another thing that amazes us about the wonderful platform is its influence on other social pages. Therefore, we are introducing to you the TikTok growth hacks to grow organically.
We will provide you with the ultimate TikTok growth tips that work perfectly for any business. You can rest assured of growing faster when you use the information that we will be highlighting below.
Key Takeaway
TikTok growth hacks are effective strategies for building your account irrespective of your objectives on the social media platform. Unlocking meaningful growth on TikTok requires that you define your audience and be creative with your post content. Growing followers also involves accessing your analytics, optimizing your bio, and finding the current trend on the platform.
Table of Contents
The Exclusive 5 TikTok Growth Strategy
The Exclusive 5 TikTok Growth Strategy
1. Define & Connect with your Audience Creatively
If you think dancing and funny videos are all you need to grow, then you are wrong. The first thing you need to understand is that everyone differs when it comes to preferences. So you must consider this when defining your audience on the platform.
That said, it's now time to make your creativity count to grow faster on TikTok. Let's look at it from this perspective:
…If you are engaging an audience in the travel niche, random dancing videos might make little or no sense to them. The idea behind Tiktok is to make the atmosphere fun-filled, but never forget to showcase your authenticity.
So while you are having fun, never forget your niche requirements. Also, make your audience see your personality through your content. Familiarity begins with your creativity and how authentic you are.
2. Be Conversant with Your Analytics
If you are sure that you comply with the TikTok growth hacking above, you need to work with your analytics. Upgrading to a Pro Account won't cost you anything, so we advise that you maximize the opportunity.
With the Pro account, you will gain access to the demographic information of TikTok users and their activities. This is an avenue to structure your content to match the preferences of your audience.
Analytics provide you with everything you need to know about your audience. You gain insight into the time TikTok users spend on the app and the content they prefer to see. This data is worth a million and can generate meaningful growth for you.
3. Bio Optimization
One of the TikTok growth hacks you don't know is optimizing your bio for promotion on other social media sites. If you are conversant with your profile page, you will notice the Instagram icon. It is a great chance to link Instagram to your TikTok account.
So when creating videos on TikTok, you should use "call to action," which leads people to your Instagram page. Additionally, if you have a website, you can include the link in your bio. It serves as a sales funnel to capture leads for your business. It offers an exponential conversion rate for your business. However, you must create compelling content that your audience won't be able to resist.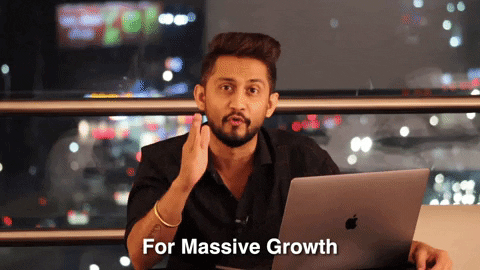 4. Work with Trends on the Platform
Have you ever opened TikTok to notice the same pattern in the content uploads? This is an excellent opportunity for you to get attention from your audience. Studies showed a higher probability that users would watch what's trending at a particular time than anything else.
It could be songs, topics, or even hashtags. Ensure you understand it and follow the idea. Furthermore, using trends increases the chance that users will view your videos. According to Stephanie Burns, riding the waves of trend is the best TitTok growth hack you can take advantage of this year.
5. Be Hyper Active on the Platform
If you are a brand owner using TikTok and want to unlock meaningful growth, your voice must be loud and frequent. In fact, you cannot be operating a low profile and expect to be recognized. Your proactivity will have a significant impact on your growth on TikTok.
Think about this – do you think it is possible to know what's trending without being active? Well, you know the answer to that already. Thus, you need to be conversant with what is going on and create your content according to it.
The chances are high that one of the videos you created will go viral, which will be why you will become famous on the TikTok platform.
Conclusion
If you have been think of how to grow on TikTok, we have the answers right here for you. The TikTok growth hacks discussed so far are tested, trusted, and unarguably the best strategies to grow nowadays. Your creativity, authenticity, and proactivity work together to help you achieve the best result for your business. Now is the time to change the story for your account.
Enjoy this Article? You May Also Like: